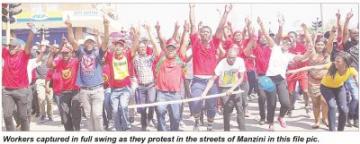 MBABANE – It is victory for PSAs as the Industrial Court has dismissed government's application to have the cost-of-living-adjustment (CoLA) case postponed to March next
EKUKHANYENI – "Please leave the school out of this." The above plea was made by the family of the Form IV pupil, Nomvuyo Maseko of
...
MBABANE – Some schools have 'suspended' the services of their support staff due to non-availability of free primary education (FPE) grants. Phumelele Zulu of the Swaziland
...
NKHUBE - Relatives of a man who is a member of a Zion Church were left dumfounded when he was found dead on a mountain.
...
: Continued misuse of public funds
Do you also believe that government is continuing with the mismanagement of public funds?